Jacques Touret Homepage
Contenu de cette page :
Jacques Léon Robert TOURET
Professeur retraité (Minéralogie-Pétrologie-Métallogénie), Vrije Universiteit Amsterdam (Pays-Bas)
 Membre ABC Mines
E-mail : ljtouret@orange.fr
Cursus scolaire/universitaire:
1946-1953: Etudes secondaires: Lycée Chanzy, Charleville (Bac Math Elem B)
1953-1955: Classes Préparatoires (Agro-Spé/Biologie): Lycée Faidherbe, Lille
1955-1958: Diplôme d'Ingénieur-Géologue, Ecole Nationale Supérieure de Géologie Appliquée et de Prospection Minière de Nancy (ENSG, Promo 58)
           - Licence es Sciences et DEA, Université de Nancy
Thèse Etat Nancy, 1969: Le socle Précambrien de Norvège Méridionale, Directeurs de Thèse: Prof. T.F.W. Barth (Oslo) et M. Roubault (Nancy)
Carrière Universitaire:
1958-1969: Assistant, puis Maitre Assistant, ENSG Nancy (1962-1963: Service Militaire, Génie de l'Air, --> Capitaine de Réserve).
1970-1972: Maitre de Conférences puis Professeur (Professeur sans Chaire, Géologie Structurale), Université de Nancy I (Campus de Vandoeuvre)
1972-1980: Professeur (Minéralogie-Pétrographie), Département des Sciences de la Terre,  Université de Paris 7 (Denis Diderot), Campus de Jussieu.
1980-2001: Professeur (Minéralogie-Pétrologie-Métallogénie), Faculté des Sciences de la Terre, Vrije Universiteit (Université Libre) d'Amsterdam (Pays-Bas) (Février 2001: Professeur Emérite, retraité)
Prix et Distinctions, Académies:
Membre régulier: Académie Royale des Sciences et Lettres (KNAW), Pays-Bas
Academia Europea
Membre Etranger: Académie Royale des Sciences et Lettres de Norvège
Prix Carrière (Académie des Sciences), Médailles Dumont (Belgique) et Van Waterschoot van der Gracht (KNGMG, Pays-Bas)
Docteur Honoris Causa, Université de Liège (Belgique) (Mai 2001)
Activités extra-universitaires:
Membre de très nombreuses commissions scientifiques, commissions d'évaluation auprès des instances universitaires et des structures de recherches en France (CNRS), Belgique (NFWO) et Pays-Bas (NWO)
Ex-éditeur, éditeur en chef, membre de comités d'édition de nombreuses revues scientifiques, en particulier Contributions to Mineralogy and Petrology, Lithos, Geofluids, Mineralogical Magazine, Comptes-Rendus de l'Académie des Sciences.
Ex-éditeur, Contributions to Mineralogy and Petrology
Rédacteur en Chef, C.R. Géoscience (Académie des Sciences, Paris)
Principaux centres d'intérêt et axes de recherche :
           Depuis le début de ma carrière, mon intérêt principal a toujours concerné la pétrographie, géochimie et métallogénie des minéraux et roches de la croûte continentale et du manteau supérieur, surtout dans les boucliers précambriens. Ceci m'a d'abord amené à me spécialiser dans les techniques d'études des lames minces au microscope polarisant, avec la co-rédaction d'un ouvrage (Roubault et al., 1963) qui, après un demi siècle, reste une référence de base pour les pays francophones. Ma thèse portant sur le socle précambrien de Norvège Méridionale, j'ai été ainsi amené à découvrir les caractères très spécifiques du métamorphisme ultime (faciès granulite), qui par la suite se sont révélés d'une grande importance pour comprendre la nature et le mode de formation des continents. A partir de considérations théoriques, j'ai supposé que le caractère anhydre des minéraux du facies granulite n'était pas dû, comme on le pensait alors, à l'absence d'eau, mais au contraire à la présence d'une phase fluide anhydre, capable de diluer les fluides aqueux et maintenir une pression partielle d'eau très basse. Nous n'avions pas alors de moyen de vérifier cette hypothèse, mais j'ai eu la chance de trouver à Nancy, où je me trouvais alors, deux collègues d'étude (B. Poty et A. Weisbrod, comme moi anciens élèves de l'ENSG), qui travaillaient dans des domaines complémentaires: les techniques d'étude des inclusions fluides pour B. Poty, la thermodynamique des associations minérales et l'expérimentation pour A. Weisbrod. Tous les trois, nous avons alors formé une équipe qui, dans les années 70, est rapidement devenue une référence internationale pour l'étude des interactions fluides-minéraux à haute pression et température.
           Utilisant la platine microthermométrique Chaixmeca mise au point par B. Poty, point de départ des recherches modernes sur les inclusions fluide, j'ai ainsi découvert dans les granulites du Sud de la Norvège un type d'inclusion totalement inattendu, contenant du CO2 à forte densité. Ces inclusions, que j'ai appelées « carboniques » correspondaient parfaitement à mes considérations théoriques. J'ai alors pensé que le faciès granulite, qui de curiosité pétrographique avait entre temps été reconnu comme représentatif de toute la base des continents et une bonne partie du manteau supérieur, était moins lié à une température très élevée qu'à la présence de cette phase fluide. C'était la notion de « métamorphisme d'infiltration carbonique » qui implique l'existence de fluides « libres » (non liès à la structure minérale ), non aqueux, à des profondeurs (plusieurs centaines de kilomètres) où personne ne pouvait supposer qu'ils puissent exister. Comme ces fluides ne laissent pas de traces dans la structure minérale, seule l'étude des inclusions fluides permet d'en soupçonner l'existence. Mais il faut être capable d'en interpréter correctement les données, ce qui a nécessité l'élaboration d'une véritable discipline spécifique et, surtout, initié des discussions qui sont loin d'être closes. Celles ci concernent en particulier les fluides qui poursuivent en profondeur (manteau) ceux de la croûte inférieure, qui sont soit identiques (CO2), soit plus réduits (méthane). On a ainsi une réserve potentielle énorme d'hydrocarbures qui, normalement, ne peuvent atteindre la surface, étant immédiatement oxydés au sein des seuls vecteurs permettant la communication entre les différents niveaux (volcans). Il n'est toutefois pas exclus qu'ils aient pu le faire dans le passé, expliquant les fluctuations à long terme des gaz « à effet de serre » dans l'atmosphère (10 à 30 fois les valeurs actuelles au Jurassique, par exemple). C'est l'idée que j'ai développée dans l'adresse prononcée lors de mon départ en retraite à l'Université libre d'Amsterdam (Afscheidcollege), qui bien qu'ignorée des spécialistes de la chimie atmosphérique resteune voie de recherches très ouverte.
           Dans les années 70, la découverte d'inclusions carboniques dans les granulites eut un certain retentissement, et initia un débat qui, après plus de vingt ans, continue de diviser les pétrographes du monde entier. Ces inclusions, dont après pas mal d'hésitations plus personne ne nie l'existence, sont-elles la trace d'une infiltration à grande échelle de CO2 ou, au contraire, un résidu négligeable, indépendant du métamorphisme granulitique ?  Ma nomination comme  professeur de minéralogie, pétrographie et métallogénie à l'Université libre d'Amsterdam puis, quelques années plus tard, mon élection à l'Académie des Sciences et Lettres des Pays-bas (KNAW) (en tant que membre régulier, il n'est pas nécessaire aux Pays-Bas d'être citoyen néerlandais pour être élu à l'Académie, il faut simplement y avoir son activité professionnelle) m'ont permis de développer un laboratoire parfaitement équipé, spécifiquement adapté à l'étude de ces problèmes. Attirant des chercheurs et visiteurs venus du monde entier, ce centre est devenu une référence reconnue, formant des spécialistes qui, aujourd'hui, appliquent et développent dans leurs laboratoires respectifs les techniques et, surtout, le mode de pensée appris à Amsterdam : J. Konnerup-Madsen à Copenhague, T. Andersen à Oslo, A.M. Van den Kerkhof à Göttingen, M.L. Frezzotti à Sienne-Rome, JM Huizenga à Johannesbourg, Bin Fu à Madison (Wisconsin, USA) etc…  Les recherches sur les fluides granulitiques ont constitué une bonne part de l'activité de tous ces chercheurs mais, bien entendu, les objectifs se sont progressivement diversifiés, abordant l'étude des inclusions fluides dans tous les types de roches : métamorphisme de haute pression (éclogites ) à côté du métamorphisme de haute température (granulites), roches volcaniques, impliquant inclusions vitreuses à côté des inclusions fluides, et même roches sédimentaires. Les inclusions fluides sont ainsi devenues un  outil puissant de la recherche pétrolière. Même si l'enseignement universitaire traditionnel reste trop souvent rebelle à l' intégrer dans son cursus de base (en raison notamment du manque d'enseignants compétents ou d'équipement spécialisé), la science des inclusions constitue maintenant un domaine reconnu de la pétrographie et géochimie, faisant appel aux techniques analytiques les plus fines, à la source de très nombreuses publications et programmes de recherche.
           Si, pendant les quelques 23 ans passés à Amsterdam, l'essentiel de mon temps a été pris par l'animation de mon groupe, les directions de recherches, et surtout les nombreuses tâches administratives ou enseignements que doit assurer un professeur d'université aux Pays-Bas, j'ai toujours pu continuer mes propres travaux, toujours axés sur le régime des fluides en milieu profond. D'abord sur l'exemple de la Scandinavie, puisqu'à mon intérêt propre pour la Norvège, qui ne s'est jamais démenti, se sont vite ajoutées Suède et Finlande, terrains d'école pour nos étudiants hollandais en pétrologie et métallogénie. Ensuite, à l'occasion d'importants programmes de coopération avec les pays en voie de développement, je me suis intéressé au Botswana, Zimbabwe et Afrique du Sud, où plusieurs de mes anciens étudiants occupent maintenant des postes importants dans l'université, l'administration ou l'industrie. Tous ces exemples, complétés par l'étude de toutes les régions classiques de faciès granulite (Indes, Madagascar, Brésil, Bouclier Sibérien, etc..), m'ont permis de vérifier la globalité du modèle d'infiltration carbonique, tout en apportant au fil des ans un grand nombre de retouches et d'affinements successifs. Par exemple, l'infiltration du CO2 profond ne se fait pas de façon diffuse, pervasive (« vague carbonique »), mais par un réseau discret de microchenaux interconnectés. L'origine du CO2 est principalement mantélique, le transport depuis la source (manteau) jusqu'au lieu d'action (croûte inférieure) se fait par l'intermédiaire d'intrusions magmatiques mises en place pendant le paroxysme métamorphique, etc.. Les techniques modernes d'analyse paragénétique permettent de reconstituer en grand détail l'histoire du métamorphisme extrême, par l'étude des cheminements P-T-t (pression-température-temps). On a pu ainsi prouver sans ambiguité que certaines inclusions carboniques, miraculeusement préservées au cœur de minéraux particulièrement résistants (grenats), avaient bien été formées lors du paroxysme métamorphiques, à des profondeurs de plusiers dizaines de kilomètres. Les reliquats tardifs peuvent aussi exister,mais il s'agit alors d'anciennes inclusions « transposées », qui n'ont pas résisté aux énormes surpressions engendrées par la remontée des roches profondes vers la surface. Au terme de ces années de discussion, un certain consensus se dessine : les modèles « carbonique » et « anhydre ne sont pas opposés, mais complémentaires. L'infiltration du CO2 est discrète, dans l'espace comme dans le temps. Mes idées actuelles vont dans le sens d'un petit nombre (4 à 6) d'épisodes majeurs granulitiques d'âge EoArchéen (3,5 milliards d'années) à Protérozoïque supérieur (550 millions d'années), liés à l'existence (ou au début de fragmentation) de « supercontinents ». Ces épisodes, que je compare à des « méga-plumes « avortées, sont responsables de la structuration de la partie inférieure des masses continentales, à une profondeur moyenne d'environ 20 à 50 km.
           Mes dernières années hollandaises (à partir de 1995) ont été marquées par des séjours sabbatiques en France, en tant que professeur « étranger » ( !) (à temps partiel) à l'Ecole Normale Supérieure. Les chercheurs de l'Ecole Normale ont une grande expérience des faciès métamorphique haute pression, qui s'opposent au caractère de haute température des granulites. C'est ainsi que j'ai été amené à m'intéresser aux éclogites, précieux témoins des phénomènes de collision continentale, marqueurs des orogènes récents (post-précambriens). Les inclusions fluides des éclogites se sont révélées bien différentes, mais au moins aussi intéressantes que celles des granulites. Ce travail se poursuit, notamment sur l'exemple des éclogites Ultra Haute Pression Pression de Chine Centrale (Dabie Sulu), qui ont atteint une profondeur de l'ordre de 200 km et qui ouvrent donc une fenêtre exceptionnelle sur les racines des orogènes de collision.
           Simultanément, l'invitation de géologues danois (GEUS), m'a doné l'occasion d'étudier les inclusions fluides de roches d'Isua (Groenland), les plus anciens fragments de croûte océanique préservés à la surface du globe (3,7 à 3,8 milliards d'années). C'est peut-être là que les premières formes de vie sont apparues sur Terre. L'étude des inclusions fluides a permis de préciser les conditions de formation, mettant en évidence les traces d'un ancien systême géothermique qui aurait pu constituer un environnement extrèmement favorable, mais sans que l'on puisse avoir jusqu'à présent une preuve indubitable d'activité biologique.
           A mon éméritat en 2001, après quelques années encore passées en Hollande pour terminer mes dernières thèses (en fait, la soutenance de la toute dernière est prévue en Janvier 2006), je suis revenu en France, au Musée de Minéralogie de l'Ecole des Mines. Ce retour a coïncidé avec un intérêt marqué, qui du reste avait débuté lors de mes dernières années aux Pays-Bas, pour l'histoire de notre discipline. C'est pour une bonne part dans les locaux de l'Ecole Royale des Mines, puis de l'Agence et l'Ecole, que minéralogie, pétrographie et géologie sont devenus de véritables sciences, d'abord avec R.J. Haüy et Dolomieu, puis avec Dufrenoy, Elie de Beaumont, Mallard, Daubrée, A. Michel-Lévy, P. Termier et bien d'autres. Dans le cadre d'organisations bien structurées (COFRIGEO pour la France, INHIGEO pour l'International), l'histoire de la géologie est une science en plein essor, et j'essaie d'y apporter ma modeste contribution, à partir du patrimoine exceptionnel du Musée et de l'Ecole, et d'une expérience qui, pendant plus d'un demi siècle, m'a donné l'occasion d'approcher et, pour beaucoup, de devenir l'ami des plus grands noms de notre époque. Heureusement, dans le monde des géologues, antagonisme scientifique n'empèche pas des relations très amicales ! Je pense aussi qu'il est de notre devoir de transmettre notre savoir au plus grand nombre, et c'est à cette tâche que je consacre désormais l'esentiel de mon temps, au travers des multiples activités qui, grâce en grande partie à l'activité de  quelques bénévoles comme moi, fidélisent les nombreux membres de l'Association ABC Mines : conférences, cours, visites guidées, organisation de voyages et excursions, etc.. Les Collections de Minéralogie et dePétrographie du Musée, notamment, constituent un précieux capital qui nous vient du passé. C'est à nous de lespréserver, de les faire connaître et, surtout, d'en écrire l'histoire.
L'essentiel de ce texte a été repris dans un article (en anglais) écrit à propos d'un numéro spécial de Geoscience Frontiers (2014, vol . 5-5, Réf. liste publications Touret).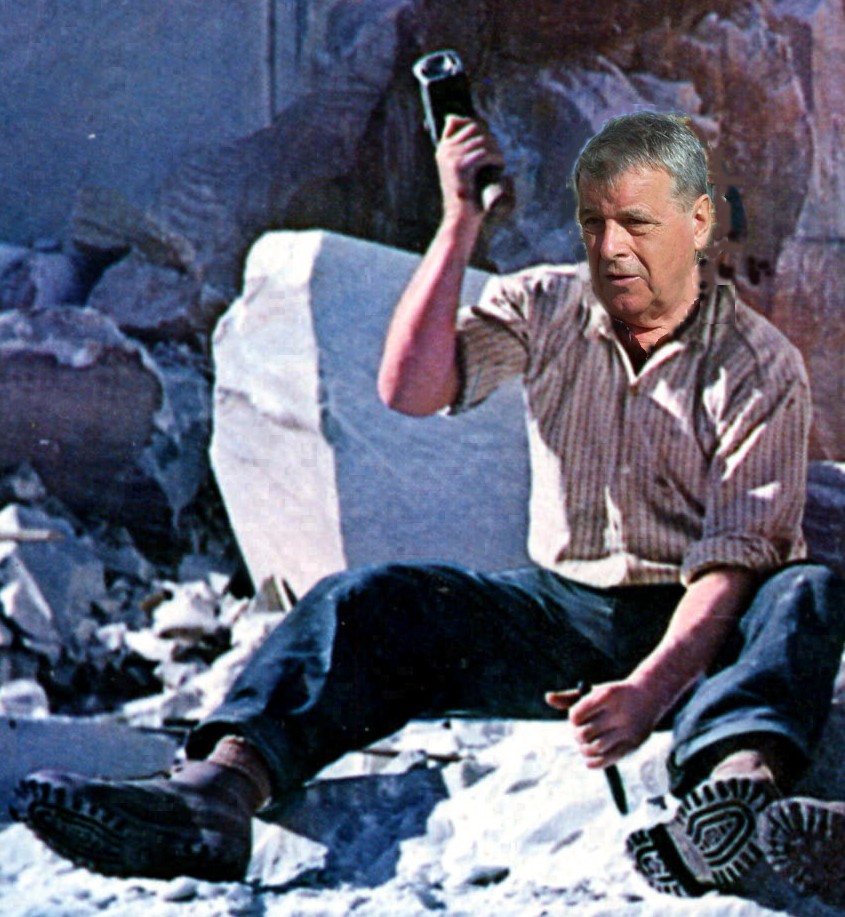 Jacques Touret dans les carrières de marbre de Toscane, par E. Diemer
J.L.R. (Jacques) Touret- Publication list (updated Feb. 2020)
Major publications


1/ Scientific publications (J. Touret (France) or J.L.R. Touret) (International).

Books

Roubault, M., Fabriès, J. Touret, J. , Weisbrod, A. (1963) - Détermination des minéraux des roches au microscope polarisant, Lamarre-Poinat ed., Paris, 1 vol., 376 p. (Reprinted 1974, 1984).

Touret, J. (1969) - Le socle précambrien de la Norvège Méridionale. Thèse Etat Nancy, 3 vol. roneo. Archives originales CNRS 2902, env. 600 p.

Touret, J.L.R. (1982) - Les effluves de la Terre. Inaugurele Oratie Vrije Universiteit Amsterdam, the Netherlands, 22p.

Tobi, A.C. & Touret, J.L.R. (1985) - The deep Proterozoic crust in the North Atlantic provinces, NATO ASI Series C-158, D. Reidel Pub., Dordrecht, 603 p.

Touret, J.L.R. , Visser, R.P.W. (2004) Dutch pionneers of the Earth Sciences, KNAW Edita, Amsterdam, XII + 200p.

Nijland, T. G., Van Hees, P.J., Lubelli, B., Touret, J.L.R. (2010) Zoutschade aan Natuursteen en Metselwerk, PCE 10 , Sdu Uitgevers, 52 p. (in Dutch)

Chapters in Books

Touret, J. (1971) - Minerais Fe-Ti, zonéographie métamorphique et roches plutoniques dans le Sud de la Norvège, p. 249-260 in « Les roches plutoniques dans leurs rapports avec les gîtes minéraux », Colloque honneur E. Raguin, Masson , Paris, 1 vol.,

Touret, J. (1974) - Faciès granulite et fluides carboniques, p. 267-287, in E. Bellière & J. C. Duchesne (coordonnateurs): Géologie des domaines cristallins, volume en l'honneur de Paul Michot, Société Géologique de Belgique (Centenaire), Liège

Touret, J. (1977) - The significance of fluid inclusions in metamorphic rocks, p. xxx-xxx (Chap. 12) in D. Fraser (ed.), Thermodynamics in Geology, NATO ASI Series, C. 35, Reidell Pub., Dordrecht, 410 p.

Touret, J. (1980) - Le métamorphisme régional: régime des fluides et grilles pétrogénétiques. Mémoire hors série Soc. Géol. France (Livre Jubilaire 150 ans), 10, 63-70.

Touret, J.L.R. (1981) - Fluid inclusions in high-grade metamorphic rocks, p. (Chapt. 8) in L.S. Hollister & M.L. Crawford (eds.) Fluid inclusions : applications to petrology. Short Course Mineralogical Association Canada, vol. 6, Calgary

Touret, J. L. R. (1985) - Fluid regime in Southern Norway: the record of fluid inclusions, p. 517-550 in A.C. Tobi & J.L.R. Touret , The deep Proterozoic crust in the North Atlantic provinces, NATO ASI Series C-158, D. Reidel Pub., Dordrecht, 603 p.

Touret, J.L.R. & Olsen, S.N. (1985) - Fluid inclusions in migmatites, p. 265-286 in J.R. Ashworth, (ed.), Migmatites, Blakie Pub., Glasgow.

Touret, J.L.R. (1986) - Fluid inclusions in rocks from the lower continental crust, p. 161-172 in Dawson, B., Carswell, D., Hall, J. & Wedepohl, H. (eds), The nature of the lower continental crust, Geol. Soc. America, Spec. Pub. 24.

Touret, J.L.R. (1987) - Fluid distribution in the continental lithosphere, p. 27-33 in A. Kröner (ed.), Proterozoic lithospheric evolution, Am. Geophysical Union, Geodynamics Series, vol. 17.

Touret, J.L.R. (1987) - Fluid inclusions and pressure-temperature estimates in deep-seated rocks, p. 91-122 in H.C. Helgeson (ed.) Chemical transport in metasomatic processes, NATO ASI Series, C218, D. Reidel Pub., Dordrecht.

Touret, J.L.R. (1987) - Telemark and Bamble high-grade metamorphic rocks, p. 12-30 in C. Maijer & P. Padget (eds), The geology of Southernmost Norway: an excursion guide, Norges Geol. Unders., Spec. Pub. 1, 109 p.

Touret, J.L.R. (1988) - Nature and interpretation of fluid inclusions in granulites, p. 181-184 in L.D. Ashwal (ed.) Worksop on the deep continental crust of Southern India. Techn. report 88-6, Lunar abd Planetary Institute, Houston, 388p.

Frost , B.R., Frost, C. D., Touret, J.L.R. (1989) - Magmas as a source of fluids and heat in granulite metamorphism, p. 1-18 in D. Bridgwater (ed.), Fluid movements-element transport and the composition of the deep crust, NATO ASI Series C 281, Kluwer Acad. Pub., Dordrecht,

Touret, J.L.R. & Hartel, T.H.D. (1990) - Synmetamorphic fluid inclusions in granulites, p. 397-417 in D. Vielzeuf & Ph. Vidal (eds), Granulites and crustal evolution, NATO ASI Series C311, Kluwer Acad. Pub., Dordrecht,

Dunai, T.J., Touret, J.L.R., Villa, I.M. (1992) - Mantle-derived helium in fluid inclusions of a 2.5 Ga-old granulite, Nilgiri Hills, Southern India, p. 919-922 in Y.K. Kharaka & A.S. Maest (eds), Water-rock interaction, Balkema, Rotterdam,

Touret, J.L.R. (1995) - The role and nature of fluids in the continental lower crust, in M. Yoshida & M. Santosh (eds), India and Antarctica during the Precambrian, Memoir Geological Society of India, 34, 143-160.

Touret, J.L.R. (1996) - LILE-depletion in granulites: Myth or reality, p. 53-72 in D. Demaiffe, ed., Petrology and geochemistry of magmatic suites in the continental and oceanic crust (Vol. hon. Prof. J. Michot), ULB-MRAC, Bruxelles,

Touret, J.L.R.& Nijland, T.G. (2002) Metamorphism today: new science, old problems, p. 113-141 in Oldroyd, D.R. (ed.) The Earth Inside and Out: Some Major Contributions to Geology in the Twentieth Century, Geological Society, London, Special Publication 192.

Touret, J.L.R. & Frezzotti, M.L. (2003) Fluid inclusions in HP and UHP-rocks. Chapter 15 in Ultra-High Pressure metamorphism, D.A. Carswell and R. Compagnoni (eds) EMU Notes in Mineralogy, vol. 5, 467-485.

Touret, J.L.R. (2004) Hermann Vogelsang (1838-1874): an European « avant la lettre », in J.L.R. Touret & R.P.W. Visser (eds) Dutch pionneers of the Earth Sciences, KNAW Edita, Amsterdam, XII + 200p.

Touret, J.L.R. (2005) Le cours professé par Dolomieu en 1796 à la Maison d'Instruction de l'Agence des Mines, p. 119-138 in J. Gaudant (coord.) Dolomieu et la géologie de son temps. Presses des Mines, Paris, 199 p.

Touret, J.L.R., Huizenga, J.M. (2011) Fluids in granulites. p. 25-37 in DD. Van Reenen, JD Kramers, S. McCourt, L.L. Perchuk (eds) Origin and evolution of Precambrian high-grade gneiss terranes, with special emphasis of the Limpopo Complex of South Africa. Geological Society America, Memoir 207, 324 p.

Touret , J.L.R., Nijland, T.G. (2013) Prograde, peak and retrograde metamorphic fluids and associated metasomatism in upper amphibolite to granulite facies transition zones in Harlov, D.E., Austrheim, H. (eds), Metasomatism and the chemical transformation of rocks. Lecture Notes in Earth System Science. Springer-Verlag, Berlin-Heidelberg, pp. 411-465. Texte intégral sur ce site

Articles in scientific journals

Besombes, J.C. & Touret, J. (1962) - Remarques statistiques sur la taille des grains d'ilménite dans les gisements remaniés et les roches mères de l'extrémité SE de Madagascar. Sciences de la Terre, Nancy, 8-3/4, 249-260.

Touret, J. (1962) - Geological studies in the region of Vegarshei- Gjerstad, Norges Geol. Unders., 215, 120-139

Touret, J. (1963) - Sur la coexistence de microcline et d'orthose dans certains gneiss oeillés de la région de Vegarshei (Norvège Méridionale), Comptes Rendus Académie Sciences Paris, Série D, 256, 2885-2887.

Touret, J. (1964) -Programmation des calculs pétrochimiques en langage Algol. Sciences de la Terre, Nancy, 9-4, 373-379.

Touret, J. (1965) - Structure des gneiss oeillés du massif de Vegarshei (Norvège Méridionale). Comptes Rendus Sommaires Soc. Géol. France, 3, 104.

Touret, J. (1965) - Sur une coupe synthétique au travers des formations Précambriennes de la Province de Bamble entre Tvedestrand et le lac Vegar (Norvège Méridionale). Comptes Rendus Acad. Sci. Paris, Série D, 260, 6652-6655.

Touret, J. (1965) - Sur l'origine supracrustale des gneiss rubanés de Selas (Province de Bamble, Norvège Méridionale). C. R. Acad. Sci. Paris, Série D, 262, 9-12.

Touret, J. (1967) - Sur la présence de mangérite à fayalite au NW de Gjerstad (Norvège Méridionale). C. R. Som. Soc. Géol. France, 6, 252-253.

Touret, J. (1967) - Les gneiss oeillés de la région de Vegarshei-Gjerstad (Norvège Méridionale). I. Etude pétrographique. Norsk Geologisk Tidsskrift, 47-2, 131-148. II. L'indice de triclinisme des feldspaths potassiques. NGT, 47-3, 275-282.

Touret, J. (1968) - The Precambrian metamorphic rocks around the Lake Vegar (Aust-Agder, Southern Norway). Norsk Geologisk Undersökelse, 257, 45p., I carte h.t.

Macaudière, J. & Touret, J. (1969) - La fibrolitisation tectonique: un mécanisme possible de formation de gneiss nodulaires du Bamble. Sciences de la Terre, Nancy, 14-3, 199-214.

Touret, J. (1970) - Deep-seated volcanism along the major Precambrian breccia in Southern Norway. I. Degernes at Lake Vegar. Norsk Geol. Tidsskrift, 50-3, 249-253.

Touret, J. (1970) - Le facies granulite, métamorphisme en milieu carbonique. C.R. Acad. Sci. Paris, Série D, 271, 2228-2229.

Touret, J. (1971) - Le facies granulite en Norvège Méridionale. I: Les associations minéralogiques. Lithos, 4, 239-249. II: Les inclusions fluides. Lithos, 4, 423-436.

Touret, J. & De La Roche, H. (1971) - Sapphirine à Snaresund, près de Tvedestrand (Norvège Méridionale). Norsk Geol. Tidsskrift, 51-2, 169-175.

Touret, J. (1971) - Contrôle du facies granulite dans le Bamble par le CO2 de la phase fluide. C. R. Som. Soc. Géol. France, 6, 143-144.

Touret, J. (1971) - Migmatisation of the « Selas » banded gneiss (Southern Norway). Proc. 1st Congress Int. Ass. Geochemistry & Cosmochemistry (en Russe)

Touret, J. (1972) - Un exemple de déformation naturelle de roches en milieu profond: les gneiss oeillés de Vegarshei-Gjerstad (Norvège Méridionale). Sciences de la Terre, Nancy, 17-1/2, 165-177.

Ploquin, A., Moine, B. & Touret, J. (1972) - Le socle précambrien en Norvège Méridionale. Présentation sommaire et thèmes abordés. Sciences de la Terre, Nancy, 17-1/2, 17-22.

Moine, B., De la Roche, H., Touret, J. (1972) - Structures géochimiques et zonéographie métamorphique dans le Précambrien catazonal du Sud de la Norvège (Région d'Arendal). Sciences de la Terre, Nancy, 17- 1/2, 131-164.

Touret, J. (1972) - Le faciès granulite en Norvège méridionale et les inclusions fluides. Paragneiss et quartzites. Sciences de la Terre, Nancy, 17-1/2, 179-193.

Masson, D., Martin, R., Richard, C. & Touret, J. (1973) - Etude par chromatographie gazeuse des fluides carboniques du faciès granulite. C.R. Acad. Sci. Paris, Série D, 276,

Al-Khatib, R. & Touret, J. (1973) - Fluides carboniques dans les roches du facies granulite du Sud de la Norvège. Utilisation semi-quantitative de la surplatine à écrasement. Bulletin Société Géologique France, 15, 3/4, 321-325.

Touret, J. (1974) - Fluid inclusions in high-grade metamorphic rocks, NATO Advanced Study Institute « Volatiles in Metamorphism », Nancy-Bern-Chiarregio, 33 p. Roneo + Complements.

Hoefs, J. & Touret, J. (1974) - Fluid inclusion, and carbon isotope study from Bamble granulites (South Norway). Contributions Mineralogy Petrology. 52, 165-174.

Berglund, L. & Touret, J. (1976) - Garnet-biotite gneiss at Komajia (Madagascar): Petrology and fluid inclusions. Lithos, 2, 137-148.

Bilal, A. & Touret, J. (1976) - Les inclusions fluides des enclaves catazonales de Bournac (Massif Central). Bulletin Société française Minéralogie Cristallographie, 99, 134-139.

Weisbrod, A., Poty, B., Touret, J. ( (1976) - Les inclusions fluides en géochimie-pétrologie: Tendances actuelles. Bul. Soc. fr. Min. Crist., 99, 140-152.

Cuney, M., Pagel, M., Touret, J. (1976) - L'analyse des gaz des inclusions fluides par chromatographie en phase gazeuse. Bul. Soc. fr. Min. Crist., 99, 153-157.

Touret, J. (1977) - Utilisation thermobarométrique du CO2 en pétrographie (réaction cordiérite-grenat). C.R. Som. Soc. Géol. France,

Bilal, A. & Touret, J. (1977) - Les inclusions fluides des phénocristaux des laves basaltiques du Puy Beaunit (Massif Central). Bul. Soc. fr. Min. Crist., 100, 324-328.

Mohammed-Touret, L. & Touret, J. (1978) - Les laves ultrabasiques des ceintures vertes archéennes et leur métamorphisme. Bul. Soc. Géol. France, 7-19/5, 971-977.

De Negri, G. & Touret, J. (1978) - Fluid inclusions in metapelites from Valle Strona (Province of Novara). 2nd Symp. Ivrea-Verbano, Mem. Sci. Geol., Padova (Italy), 33, 87-94.

Fieni, C., Bourot-Denise, P., Pellas, P., Touret, J. (1978) - Aqueous fluid inclusions in feldspars and phosphates from Peetz chondrite, Meteoritics, 13, 460-461.

Touret, J. & Bottinga, Y. (1979) - Equation d'état pour le CO2. Application aux inclusions carboniques. Bulletin Minéralogie, 102, 577-583.

Forestier, H. & Touret, J (1979) - Granulites, éclogites, péridotites en France. Guide Excursion 114 C, 26ème Congrès Géol. Int., Sciences de la Terre, Nancy, 23-3, 1-43.

Touret, J. (1979) - Les roches à tourmaline-cordiérite-disthène de Bjordammen (Norvège Méridionale) sont-elles liées à d'anciennes évaporites? Sciences de la Terre, Nancy, 33-2, 95-97.

Guilhaumou, N., Dhamelincourt, P., Touray, J.C. , Touret, J. (1981) - Etude des inclusions fluides du systme N2-CO2 de dolomites et de quartz de Tunisie Septentrionale. Geochimica. Cosmochim. Acta, 45, 657-673.

Hoefs, J., Coolen, J.J.M.M.M., Touret, J.L.R. (1981) - The sulfur and carbon isotope composition of scapolite-rich granulites from Southern Tanzania. Contributions Mineralogy Petrology, 78, 332-336.

Pineau, F., Javoy, M., Behar, F. , Touret, J. (1981) - La géochimie isotopique du faciès granulite du Bamble (Norvège) et l'origine des fluides carbonés dans la crožte profonde. Bulletin Minéralogie, 104, 630-641.

Touret, J.L.R. (1982) - An empirical phase diagram for part of the N2-CO2 system at low temperature. Chemical Geology, 37, 49-58.

Sauniac, S. & Touret, J.L.R. (1983) - Petrology and fluid inclusions of a quartz-kyanite segregation in the main thrust zone of the Himalayas. Lithos, 16, 35-45.

Touret, J.L.R. & Dietvorst, P. (1983) - Fluid inclusions in high grade anatectic metamorphites. J. Geol. Soc. London, 140, 635-649.

Touret, J.L.R. (1984) - Fluid regime in the lithosphere as indicated by fluid inclusions. Mitteilungen Oesterreichischen Mineralogischen Gesellschaft, 129, 31-38.

Touret, J.L.R. & Van den Kerkhof, A. M. (1986) - High-density fluids in the lower crust and upper mantle. Physica 139, 140B, 834-840.

Touret, J.L.R. & Hansteen, T.H. (1988) - Geothermobarometry and fluid inclusions in a rock from the Doddabetta charnockite complex, Southwest India, Rendiconti Società Italiania Mineralogia e Petrologia, 43, 65-82.

Eilon, G., Lang, B., Starinsky, A. , Touret, J.L.R. (1988) - A fluid inclusion investigation of Cenomanian quartz geodes in Isra'l: a possible heliothermal effect. Bul. Minéralogie, 111, 321-330.

Darimont, A., Burke, E.A.J., Touret, J.L.R. (1988) - Nitrogen-rich metamorphic fluids in Devonian metasediments from Bastogne, Belgium. Bul. Minéralogie, 111, 321-330.

Touret, J.L.R. & Burke, E.A.J. (1988) - Flu•de fasen in mineralen: gas en vloeistof als insluitsels in kristallen, GEA, 21-3, 61-68. (in Dutch)

Frezzotti, M.L., Ghezzo, C.L., Touret, J.L.R. (1988) - Fluids in the Monte Pulchiana intrusion (N. Sardinia): results of fluid inclusion studies. Rendiconti Società Italiana Mineralogia e Petrologia, 43, 105-119.

Touret, J.L.R. (1989) - Fluid control in the lower crust, Publikation Heft 1 (Gesteinfluiden), NiedersŠchsische Akademie der Geowissenschaften, Hannover, 47-58.

Frost, B.R. & Touret, J.L.R. (1989) - Magmatic CO2 and saline melts from the Sybille monzosyenite, Laramie anorthosite complex, Wyoming. Contrib. Mineral. Petrol., 103-2, 178-186.

Makjanic, J., Touret, J.L.R., Vis, R. & Verheul, H. (1989) - Carbon in glass inclusions in the Allende meteorite. Meteoritics, 24, 49-55.

Munyanyiwa, H., Touret, J.L.R., Jelsma, H. (1990) - Thermobarometry and fluid evolution of enderbites within the Magondi belt, Northern Zimbabwe. Journal African Earth Sciences, 22, 11-15.

Wilmart, E., Clochiatti, R., Duchesne, J.C., Touret, J.L.R. (1991) - Fluid inclusions in granulites from Rogaland (Norway). Contrib. Mineral. Petrol., 108, 453-462.

Van den Kerkhof, A.M., Touret, J.L.R., Maijer, C. & Jansen, J.B.H. (1991) - Retrograde methane-dominated fluid inclusions from high-temperature granulites of Rogaland, Southwestern Norway. Geochimica Cosmochimica Acta, 55, 2533-2544.

De Maesschalck, A.A., Touret, J.L.R., Maaskant, P. & Dahanayake, K. (1991) - Petrology and fluid inclusions in garnetiferous gneisses and charnockites from Weddagala (Ratnapura district, Sri Lanka). Journal Geology, 99, 443-456.

Srikantappa, C., Raith, M., Touret, J.L.R. (1992) - Synmetamorphic high-density carbonic fluids in the lower crust: evidence from the Nilgiri granulites, Southern India. Journal of Petrology, 33-4, 730-760.

Touret, J.L.R. (1992) - CO2 transfer between the Upper Mantle and the atmosphere: temporary storage in the lower continental crust. Terra Nova, 4, 87-98.

Touret, J.L.R. & Van Hinte, J.E. (1992) - Introduction to « Le rôle des fluides dans les zones de subduction », un séminaire de X. LePichon du Collège de France aux Pays-Bas. Proceedings Koningliche Nederlandse Akademie der Wetenschappen, 95-3, 293-296.

Touret, J.L.R. (1992) - Fluid inclusions in subducted rocks. Proceedins. Kon. Ned. Akad. Wetenschap., 95-3, 385-403.

Dunai, T.J. & Touret, J.L.R. (1993) - A noble-gas study of a granulite sample from the Nilgiri Hills, Southern India: implications for granulite formation. Earth Planet. Sci. Let., 119, 271-281.

Touret, J.L.R. & Frezzotti, M.L. (1993) - Magmatic remnants in plutonic rocks. Bul. Soc. Géol. France, 164-2, 229-242.

Munyanyima, H., Touret, J.L.R., Jelsma, H. (1993) - Thermobarometry and fluid evolution of enderbites within the Magondi mobile belt, Northern Zimbabwe, Lithos, 29, 163-176.

Kurat, K., Palme, H., Embey-Isztin, A., Touret, J.L.R., Ntaflos, T., Spettel, B., BrandstŠtter, F. , Palme, C., Dfreibus, G., Prinz, M. (1993) - Petrology and geochemistry of peridotites and associated vein rocks of Zebargad island, Red Sea, Egypt. Mineralogy and Petrology, 48, 309-341.

( Supplement: Brandstätter, F., Ntaflos, T. & Kurat, G. (1993) - Electron microprobe analyses of minerals from peridotites ans associated vein rocks of Zebargad Islands, Red Sea, Egypt).Spec. Pub. Min. Petro. Abteilung, Naturhistorisches Museum Vienna, Austria, 24 p.)

`

Zwart, E. W. & Touret, J.L.R. (1993) Aqueous and gaseous fluids in Zechstein 2 limestones. Archivum Mineralogiczne (Krakow), T. XLIX, z.1, 254-257.

Muchez, Ph., Marshall, J.D., Touret, J.L.R., Viaene, W. A. (1994) - Origin and migration of paleofluids in the Upper Visean of the Campine basin, Northern Belgium. Sedimentology, 41, 133-145.

Touret, J.L.R. & Thompson, A.B. (eds) (1994) - Fluid-rock interaction in the continental lithosphere. Chemical Geology, (Proceedings EUGVIII all-Union Symposium IUS-7)

Cong, Y. X., Touret, J.L.R., Stel, H. (1995) - Fluid in Caledonian Shear Zones, Kwanping Group, Qinling Mountains, China: a reconnaissance study, Petrology (Moscow), 3-5, 291-300.

Giorgetti,G., Frezzotti, M.L., Carosi,R., Mecheri, M., Touret, J.L.R. (1995)- Carbonic fluid evolution in syntectonic veins in metapelites and marbles from Pristley formation (Central Victoria Land, Antarctica), Bol. Soc. Esp. Mineral. (ECROFI XIII), 18-1, 88-89.

Mutemeri, N., Blenkinsop, T., Touret, J.L.R. (1995)- Fluid inclusion evidence for two generations of quartz-veins in the Archean gold-bearing Venus shear zone of the Arcturus mine, Zimbabwe, Bol. Soc. Esp. Mineral. (ECROFI XIII), 18-1, 158-159.

Touret, J.L.R. (1995)- Brines in granulites: the other fluid, Bol. Soc. Esp. Mineral. (ECROFI XIII), 18-1, 250-251.

Touret, J.L.R. (1995)- Interaction fluides-minéraux dans la crožte continentale profonde, Colloque C. Guillemin, Doc. BRGM 243, p. 93-98.

Touret, J.L.R. & Huizenga, J.M. (1995)- Fluids in metamorphic shear-zones, Terra Abstracts, vol. 7, p. 114.

Moree, M. & Touret, J.L.R. (1995)- Veining history of the metabasalts in the high-pressure Catalina Schists, California, USA, Terra Abstracts, vol. 7, p. 129.

Dunai, T.J., Hilton, D.R., Touret, J.L.R. (1995)- Granulite formation and mantle CO2- Evidence from the Lofoten and Vesteralen islands, Norway, AGU, suppl. to EOS, vol. 76, nº46, p. F678.

Touret, J.L.R. (1996)- Fluid inclusions in eclogites (a.o. Dabie Mountains, China), 30th Int. Geol. Cong., Beijing, Abstract vol. 3, p. 551 (WB 11-7).

Frezzotti, M.L.,Touret, J.L.R, Neumann, E.R.,Vitti, C. (1996)- Carbonate melt-silicate melt-CO2 immiscibility in the Upper Mantle. Fluid and melt inclusion studies in composite xenolith from la Gomera (Canary Islands), 30th Int. Geol. Cong., Beijing, Abstract vol.

Beijing, Abstract vol. 2, p. 484.

Touret, J.L.R.(1996)- Melt remnants in plutonic rocks, a guide for the characterization of magmatic fluids, 30th Int. Geol. Congress., Abstract vol 2, p. 488.

Holler, W., Touret, J.L.R. & Stumpfl, E. (1996) - Retrograde fluid evolution at the Rampura Agucha Pb-Zn-(Ag) deposit, Rajasthan, India, Mineralium Deposita, 31, 163-171.

Damman, A.H., S.M. Kars, J.L.R. Touret, E.C. Riffe, J.A.L.M. Kramer, R.D. Vis, I. Pintea, (1996), PIXE and SEM analyses of fluid inclusions in quartz crystals from K-alteration zone of the Rosia-Poieni porphyry-Cu deposit, Apuseni Mountains, Rumania, Eur. J. Mineral., 8, 1081-1096.

Nijland, T., Touret, J.L.R., Visser, D. (1998) - Significance of brines in the genesis of isolated granulite facies « islands » (Hauglandsvatn, Southern Norway). Journal Geology, 106, 575-590.

Fonarev, V.I., Touret, J.L.R. & Kotelnikova, Z.A. (1998) - Fluid inclusions in rocks from the Central Kola granulite area. Eur. J. Mineral., 10, 1181-1200.

Jelsma, H.A., Huizenga, J.M. , Touret, J.L.R. (1998) - Fluids and epigenetic gold mineralisation at Shamva mine, Zimbabwe: a combined structural and fluid inclusion study. J. African Earth Sci., 27-1, 55-70.

Touret, J.L.R., Bilal, A. , Sheleh, F. (1998) - Effet de serre, gas volcaniques et métamorphisme granulitique (en français et arabe). Nouvelles Scientifiques, CEDUST Damas (Syrie), 36-48.

Touret, J.L.R. (1998) Lower crustal granulites: « soaks » and « pontiffs » revisited. Keynote adress, Annual Meeting Metamorphic Study group, Mineralogical Soc., Burlington House, March 1998.

Touret, J.L.R. (1998) Fluid inclusions in gemstones. Natuurhistorisch Museum Naturalis, Leiden, Symposium on Gemmology.

Bolder-Schrijver, L.J.A., Touret, J.L.R.(1998) Prediction of fluid composition in granulite metamorphism. Geowetenschappelijke Grensgevallen (NAC IV), Veldhoven, 3.13.

Moree, M. & Touret, J.L.R. (1998) Retrograde fluid-rock interaction in high-pressure systems. Geowetenschappelijke Grensgevallen (NAC IV), Veldhoven, 3.38.

Zwaan, J.C. & Touret, J.L.R. (1998) Typology of fluid/solid inclusions in emeralds. Geowetenschappelijke Grensgevallen (NAC IV), Veldhoven, 3, 59.

Touret, J.L.R. & Huizenga, J.M. (1999) - Intraplate magmatism at depth: high-temperature lower crustal granulites. J. African Earth Sciences, 27-2, 367-382.

Barrie, I.B. & Touret, J.L.R. (1999) - Fluid inclusion studies of gold-bearing quartz veins from the Yrisen deposit, Sula Mountains greenstone belt, Masumbiri, Sierra Leone. Ore Geology Reviews, 14, 203-225.

Nijland, T., Visser, D., Touret, J.L. R. (2000). Anomanously low temperature othropyroxene, spinel and sapphirine occurrences in metasediments from the amphibolite-to-granulite facies transition zone (South Norway): a reply, J. Geology, 108, 247-249.

Bolder-Schrijver, L., Kriegsmann, L., Touret, J.L.R. (2000) Primary carbonate/CO2 inclusions in sapphirine-bearing granulites from central Sri-Lanka. J. Metamorphic Geology, 18(3), 259-269.

Agard, Ph, Goffé, B., Touret, J.L.R., Vidal, O. (2000) Retrograde mineral and fluid evolution in high-pressure metapelites (Schistes Lustrés units, Western Alps) Contrib. Mineral. Petrol., 140, 269-315.

Zwaan, J.C. & Touret, J.L.R. (2000) Emeralds of Sandawana, Zimbabwe (2000), Münchner Geologische Hefte, A28, 245-258.

Stel, H. & Touret, J.L.R. (2000) Quartz ribbons in metamorphic rocks. EGS, Nice, Symp. SE 24 (Abstract)

Touret, J.L.R. & Stel, H. (2000) Microstructures in granulites, a guide for the understanding of fluid-rock interaction processes. EGS, Nice, Symp. SE24.

Bilal, A. & Touret, J.L.R. (2001) Les enclaves du volcanisme récent du rift syrien. Bull. Soc. géol. France, 172-1, 1-14.

Touret, J.L.R. (2001) Fluids in metamorphic rocks, Lithos, 55, 1-25.

Fu, B., Touret, J.L.R., Zheng, Y-F (2001) Fluid inclusions in coesite-bearing eclogites and jadeite quartzite at Shuanghe, Dabie Shan (China). J. metamorphic Geol., 19, 529-545.

Nijland, T., Touret, J.L.R. (2001) Replacement of graphic pegmatite by graphic albite-actinolite-clinopyroxene intergrowths (Mjavatn, southern Norway). Eur. J. Mineral., 13, 41-50.

Appel, P.W.U., Rollinson, H., Touret, J.L.R. (2001) Remnants of an Early Archean (>3.75 Ga) sea-floor, hydrothermal system in the Isua Greenstone Belt, Precambrian Research 112, 27-49.

Campos, E., Touret, J.L.R., Nikogosian, I., Delgado, J. (2002) Overheated, Cu-bearing magmas in the Zaldivar porphyry-Cu deposit, Northern Chile. Geodynamic consequences. Tectonophysics, 345, 229-251.

Kirstein, L.A., Dunworth, E.A., Nikogosian, I.K., Touret, J.L.R., Lustenhouwer, W.J. (2002) Initiation of melting beneath the Oslo rift: a melt inclusion perspective. Chemical Geology, 183, 221-236.

Nikogosian, I.K., Elliott, T., Touret, J.L.R. (2002) Melt evolution beneath thick lithosphere: a magmatic inclusion study of la Palma, Canary Islands. Chemical Geology, 183, 169-193.

Borisova, A.U., Nikogosian, I.K., Scoates, J. S., Weis, D., Damasceno, D., Shimizu, N., Touret, J.L.R. (2002) Melt, fluid and crystal inclusions in olivine phenocrysts from Kerguelen plume-derived picritic basalts: evidence for interaction with the Kerguelen Plateau lithosphere. Chemical Geology, 183, 195-220.

Frezzotti ML, Touret J.L.R., Neumann E.R. (2002) Ephemeral carbonate melts in the upper mantle: carbonate-silicate immiscibility in microveins and inclusions within spinel peridotite xenoliths, La Gomera, Canary Islands, Eur. J. Mineral., 14(5): 891-904.

Fu B., Zheng Y.F., Touret J.L.R (2002) Petrological, isotopic and fluid inclusion studies of eclogites from Sujiahe, NW Dabie Shan (China) Chem. Geol. 187 (1-2): 107-128 .

Touret, JLR (2002) The apparition of life on Earth: when and where ? KNAW, Verslag van de gewone vergadering van de Afdeling Natuurkunde, deel 111, n°2, p. 39-44 (Voordracht gehouden Feb. 25, 2002

Fu, B., J.L.R. Touret and Yong-Fei Zheng (2003) Remnants of pre-metamorphic fluid and oxygen-isotopic signatures in eclogites and garnet clinopyroxenite from the Dabie-Sulu terrane, eastern China, Journal of Metamorphic Geology, 21: 561-578.

Touret, J.L.R. (2003) Remnants of early Archean hydrothermal methane and brines in pillow-breccia from the Isua greenstone Belt, West Greenland. Precambrian Research 126, 219-233.

Appel, P.W.U., Moorbath, S., Touret, J.L.R. (2003) Early Archean processes and the Isua greenstone Belt, West Greenland. Precambrian Research 126, 173-179

Fu, B., Touret, J.L.R., Zheng, Y.-F & Jahn, B.-M., 2003. Fluid inclusions in granulites, granulitized eclogites and garnet clinopyroxenites from the Dabie-Sulu terranes, eastern China. Lithos, 70, 293-319.

Fu, B., Touret, J.L.R. & Zheng, Y.-F., 2003. Feature and evolution of metamorphic fluids during continental collision. Geochimica et Cosmochimica Acta (Supplement), 67S, A106 (Goldschmidt 2003). (Keynote).

Touret, J.L.R. (2003) Fluids in the deep Earth. J. Geochemical Explor. 78-79, 659-663.

Campos, Eduardo A., Jacques LR Touret, and Igor Nikogosian. (2006) "Magmatic Fluid Inclusions from the Zaldivar Deposit, Northern Chile: The Role of Early Metal-bearing Fluids in a Porphyry Copper System." Resource geology 56.1: 1-8.

Prokof'ev, V.Y., Baksheev, I.A., Korytov, F.Y. , Touret, J. (L.R.), 2006 Immiscible fluids (CO2-brines) in optical fluorite, Nordvik Taymir, Russia. C.R. Geosciences 338, 617-623.

Heijlen, W., Appel, P.W.U., Frezzotti, M.L., Horsewell, A., Touret, J.L.R. (2006) Metamorphic fluid flow in the northeastern part of the 3.8-3.7 Ga Isua Greenstone Belt (SW Greenland) : a reevaluation of fluid inclusion evidence for early Archean seafloor-hydrothermal systems. Geochimica Cosmochimica Acta, 70, 3075-3095.

S.T. de Vries & Touret, J.L.R. (2006) Early Archean hydrothermal fluids : a study of inclusions from the ca 3.4 Buck Ridge Chert, Barberton Greenstone Belt, South Africa. Chemical Geology, vol. 337, issues 3-4, p. 289-302.

Touret, J.L.R. (2008) Mantle to deep-continental crust fluid/melt transfer during world-scale episodes of granulite-forming events p. 224, Lithosphere petrology and origin of diamond (Symposium 100th Anniversary V.S. Sobolev, Russian Academy Science, Siberian Branch, Novosibirsk)

Chupin, V. P., Kuzmin, D.P., Madyukov, I.A., Touret, J.L.R. (2008) Fluids and melts at depth : magmatic inclusion data, on the example of South-Eastern Pamir. p. 134, Lithosphere petrology and origin of diamond (Symposium 100th Anniversary V.S. Sobolev , Russian Academy Science, Siberian Branch, Novosibirsk) (See the Poster)

Touret, J.L.R. (2009) Mantle- to lower crust fluid transfer through granulite metamorphism. Russian Geology and Geophysics, vol. 50, pp. 1052-1062. Texte intégral sur ce site

Touret, J. L.R., Grégoire, M., Teitchou, M. (2010) Was the lethal eruption of Lake Nyos related to a double CO2/H2O density inversion? C.R. Geoscience, vol. 342, pp. 19-26

*Touret, J.L.R. & Huizenga, J.M. (2011) Fluids in granulites, p. 25-38 in Van Reenen et al. (eds) Origin and evolution of Precambrian high-grade terranes, with special emphasis on the Limpopo Complex of South Africa. Geol. Soc. America Memoir 207, 323 p. Texte intégral sur ce site

*J.L.R. Touret & J.M. Huizenga (2012) Fluid-assisted granulite metamorphism: a continental journey. Gondwana Research 21, 224-235. Texte intégral sur ce site

* J.L.R. Touret & J.M. Huizenga (2012) Charnockites microstructures: from magmatic to metamorphic. Geoscience Frontiers, 3(6), 745-753. Texte intégral sur ce site

Huizenga, J.M., Touret, J.L.R. (2012) Granulites, CO2 and graphite. Gondwana Research 22(3), 799-809. Texte intégral sur ce site

Touret, J.L.R. (2013) Fluid inclusions in eclogites and granulites : a comparison. 10th International Eclogite Conference, Courmayeur (Italy). Abstract volume, p. 155

(http://www.iec2013.unito.it/wp-content/uploads/2013/07/abstract_volume.pdf)

Touret, J.L.R. (2014) How everything started: a retrospective. Geoscience Frontiers, *5-5, 627-634. Texte intégral sur ce site

*Huizenga, J.M., Van Reenen, D., Touret, J.L.R. (2014) Fluid-rock interaction in retrograde granulites of the Southern Marginal Zone, Limpopo high-grade terrain, South Africa. Geoscience Frontiers 5-5, 673-682. Texte intégral sur ce site

*Frezzotti, M.L. & Touret, J.L.R. (2014) CO2, carbonate-rich melts, and brines in the mantle. Geoscience Frontiers 5-5, 697-710. Texte intégral sur ce site

* Fu, B. & Touret, J.L.R. (2014) From granulite fluids to quartz-carbonate megashearzones : The gold rush. Geoscience Frontiers 5-5, 747-758.Texte intégral sur ce site

*Newton, R.C., Touret, J.L.R., Aranovich, L.Y. (2014) Fluids and H2O activity at the onset of granulite metamorphism, Precambrian Research , vol. 273, p. 17-25. Texte intégral sur ce site

Touret, J.L.R., Santosh M., Huizenga J.M. (2016) High-temperature granulites and supercontinents, Geoscience Frontiers 7 (2016), p. 101-113. Texte intégral sur ce site

Aranovich, L.Y., Makhluf, A.M., Manning, C.E., Newton, R.C., Touret, J.L.R. , Fluids, Melting, Granulites and Granites: A Controversy Reply to the Commentary of J. D. Clemens, I. S. Buick and G. Stevens, Precambrian Research (2016). Texte intégral sur ce site

*Touret, J.L.R., Huizenga, J.M., Kehelpannala, W., Piccoli, F. (2019a) Vein-type graphite in Sri-Lanka: the ultimate fate of granulite fluids. Chemical Geology, ECROFI 2017 (Nancy), vol. 508, 167-181. Texte intégral sur ce site

*Touret, J.L.R., Newton, R.C., Cuney, M., (2019b) Incipient charnockites: the role of brines. Geosciences Frontiers, vol. 10-5, 1789-1901. Texte intégral sur ce site

*Newton, R.C., Aranovitch, L. Ya., Touret, J.L.R. (2019c) Streaming of saline fluids through Archean crust: Another view of charnockite-granite relations in southern India. Lithos, vol. 346-347, 108157.Texte intégral sur ce site

(2020, in press)

Touret, J.L.R., Huizenga, J.M., Large-scale fluid transfer between mantle and crust during supercontinent amalgamation and disruption. Russian Geology and Geophysics (Sobolev 110 Issue) Vol.61, n°5-6, pp. 527-542. Texte intégral sur ce site

2/ Histoire des Sciences (Géologie) et vulgarisation

Touret, J. (1984) Les inclusions fluides: Histoire d'un paradoxe. Bul. Minéralogie, 107, 125-137.

(L. Touret (1997) Jean-Baptiste de Romé de l'Isle (1736-1790) : des geôles britanniques au salons parisiens. COFRHIGEO, Troisième série, tome 11, p. 127-137.)

Touret, J. (1999a) Au hasard des vitrines du Musée: échantillon n° 15740, Bulletin ABC Mines, Paris, 15, 21-32.

Touret, J. (1999b) La découverte du CO2 dans les roches: une grande aventure scientifique du XIXème Siècle. Travaux Comité Français Histoire de la Géologie (COFRHIGEO), Troisième série, tome 13, p. 71-81.

Touret, J. (2000) - Déodat de Gratet de Dolomieu (1750-1801) et l'Ecole des Mines qui n'était encore que la Maison d' Instruction de l'Agence des Mines à l' Hôtel de Mouchy, Bulletin ABC Mines, Paris, 17, 25-34.

Touret, J. (2006) Dans l'ombre de ses maîtres : Alexandre-Eugène Béguyer de Chancourtois (1820-1886). COFRHIGEO, Troisième Série, tome 20 n04, p. 61-73 .

(Reproduit en 2008 : p. 215-229 in J. Gaudant , Géologues et paléontologues, de la passion à la profession, Presses des Mines, Paris, 2008, 293 p.)

Touret, J. (2006) De la pétrographie à la pétrologie. COFRHIGEO, Série 3, tome 20 n°8, p. 167-184. (Reproduit en 2009 , p. 171-199 in J. Gaudant , L' essor de la géologie française, Essais, Presses des Mines, Paris, 2009, 380 p.)

Touret, J. (2006) Le globe d'Elie de Beaumont au Collège de France. La Lettre du Collège de France, n°16, p. 31-35.

Touret, J. (2006) Minéralogie en Toscane. Minéraux et Fossiles. Part 1 (Pise) n° 348, p. . Part 2 (Carrare à Volterra) n° 349, p. 36-51. Part 3 (Elbe, histoire et structure géologique) n° 350, p. 40-52. Part 4 (Elbe, mines du secteur oriental) n° 351, p. 26-41. Part 5 (Elbe, granites et pegmatites) n° 352, p. 42-53.

Touret, J. (2007) Elie de Beaumont (1798-1874), des systmes de montagnes au réseau pentagonal. COFRHIGEO, Série 3, Tome 21, n°4, p. 127-155. (Reproduit p. 96-132 in J. Gaudant (ed) L' essor de la géologie française, Essais, Presses des Mines, Paris, 380 p.)

Touret, J. (2007) A la découverte des Pyrénées Centrales et Occidentales. Minéraux et Fossiles, Part 1 (Trimouns), n° 361, p. 22-33. Part 2 (Lherz), n°362, p. 24-33. Part 3 (Marbres des Pyrénées), n° 363, p. 28-37. Part 4 (Gavarnie) , n° 364, p. 46-51, Part 5 (Crise K/T et ophites), n° 365, p. 22-32.

Touret, J. (2008) Découverte du Nord Portugal 1: Panasqueira, entre Coïmbra et Viseu. Minéraux et Fossiles, n° 374, p. 36-48. 2 : Bragance, ou quand l'Ibérie prolonge la Bretagne. Minéraux et Fossiles, n° 375, p. 30-42.

Touret, J. (2009) Quand les cristaux perdent la tête, Minéraux et Fossiles, n° 379 (Avril 2009), p. 34-44. Texte intégral sur ce site

Touret, J. (2009) Des fluorines de toutes les couleurs ; sur quelques échantillons de l'Ecole des Mines, Minéraux et Fossiles, n° 383 (Sept. 2009), p. 34- 47.

Touret, L., Touret, J. (2010) The Ecole des Mines: two centuries of friendly relations with Russia. Mineralogical Almanac (Mineral Observer), vol. 15, issue 1, pp. 34- 45

Touret , J. (2010) The 2009 Munich Mineral Show: between Mineralogy and Gemmology, Mineralogical Almanac (Mineral Observer), vol.15, Issue 1, pp. 73-76

Touret, J. (2010) Michel Lévy (Auguste Michel-Lévy, 1844-1911), brillant élève de l'Ecole impériale des Mines. COFRHIGEO, Troisième série, t. XXIV, n°5, p. 103-117.

Touret, J. (2013) De granite à granulite : le retour du métasomatisme. COFRHIGEO , Troisième série, t. XXVII, n°3, p. 92-103.

T.G. Nijland, T.G., Touret, J.L.R. (2013) De historische mijnbouw in Zuid-Noorwegen en haar Nederlandse connecties. Grondboor & Hamer, Deel 1, Jaargang 67, num. 3, p. 80-86. Deel 2 Jaargang 67, num. 6, p.188-194. Texte intégral sur ce site

Nijland, T. G. & Touret, J. L.R. (2014), Un naturaliste aux multiples facettes : Jean Lavalle (1820-1880) et la notion de pression de cristallisation. COFRHIGEO, Troisième série, t. XXVIII, p. 55-72.

Touret, J. & Nijland, T.G. 2016. Het graf van Napoléon de Dôme des Invalides in Parijs. Geol. Brief. Mei. Pp. 4-7. In Dutch.

Touret, J. & Bulakh, A. (2016) Le tombeau de Napoléon, entre pétrographie et histoire. COFRHIGEO, Troisième série, t. XXX, n°2, pp. 65-87.

Touret J., Bulakh A. G. (2016) Italian names and a stone from Russia in the history of creating of the tombstone of Napoleon in the Dôme Des Invalides (Paris).Vestnik of Saint Petersburg University. Series 15. History of Arts, 2016, issue 4, pp. 70-83.

Touret J., Bulakh A. G. [From Schoksha to Paris. (2016). On history of prospecting, quarrying, logistics and cutting of Schoksha quartzite for the sarcophagus of Napoleon]. Trudy of the Karelian Sci. Center of RAN. Ser. Geology of Precambrian. 2016, no. 4, pp. 127-134. (In Russian)

*Touret, J. & Bulakh, A.B. (2017a) Ornamental stones of the Napoléon tombstone (Paris). Art, Geology and Geography (en Russe) BecTHИK CП 6ГУ.2017. T62. 1 Vestnik SPbSU. Earth Sciences, 2017, vol.62, issue 1, pp. 20-30. DOI: 10.21638/11701/ spbu07.2017.102.

Touret, J., & Bulakh, A. (2017b) From Russia with rocks: The tombstone of Napoleon. Mineralogical Almanac. Tom 22. No 1. Pp. 80-87. Texte intégral sur ce site

Bulakh, A. & Touret, J. (2020) Shoksha quartzite, a heritage stone of international importance from Russia, in Hannibal, J.T., Kramar, S. & Cooper, B.J. (eds) Globel Heritage Stone: Worldwide examples of Heritage Stones. Geological Society, London. Special Publications, 486 Online Feb. 2020

Promotor PhD theses ( while in Amsterdam, the Netherlands)

1- R. Kreulen (1977) C02-rich fluids during regional metamorphism in Naxos, Greece: a study of fluid inclusions and stable isotopes. Geologica Ultraiectina (Rijksuniversiteit Utrecht), 85 pp.

2- H. Swanenberg (1980) Fluid inclusions in high-grade metamorphic rocks from Southern Norway. Geologica Ultraiectina (Rijksuniversiteit Utrecht), 25, 147 pp.

3- J.J.M.M.M. Coolen (1980) Chemical petrology of the Furua granulite complex, Southern Tanzania. GUA papers of Geology (Universiteit van Amsterdam), Ser. 1, n° 13, 258pp.

4- E.J.L. Dietvorst (1981) Pelitic gneisses from Kemiö, Southwest Finland. Vrije Universiteit Amsterdam, 115 pp.

5- J. Schreurs (1985) The West Uusimaa low-pressure thermal dome. Vrije Universiteit Amsterdam, 179 pp.

6- A. Darimont (1985) Genèse des filons transverses dans le Paléozo•que belge par la méthode des inclusions fluides. Université de Liège, 138 pp.

7- T. Andersen (1987) Petrogenesis and geochemistry of carbonatites: the Fen Complex, SE Norway. Universitet i Oslo, 287 pp.

8- V.B. Sibiya (1988) The Gaborone granite complex, Botswana, Southern Africa: an atypical Rapakiwi granite-massive anorthosite association. Vrije Universiteit Amsterdam. 449 pp.

9- A.M. (Fons) Van Den Kerkhof (1988) The system CH4-CO2-N2 in fluid inclusions: theoretical modelling and geological applications. Vrije Universiteit Amsterdam, 206 pp.

10- A.H. Damman (1989) Skarn and ore formation in the Gasborn area, West Berlagen, Central Sweden: a study of (sub)seafloor hydrothermal-metamorphic mineral assemblages. Vrije Universiteit Amsterdam, 183 pp.

11- M. Ploegsma (1989) Shear zones in the West uusimaa area, Southwest Finland. Vrije Universiteit Amsterdam, 134 pp.

12- J. Sopaheluvakan (1990) Ophiolite obduction in the Mutis complex, Timor, Eastern Indonesia. Vrije Universiteit Amsterdam, 226 pp.

13- J. Makjanic (1990) Carbon in chondrites. Distribution and structure. Vrije Universiteit Amsterdam (Faculty of Physics and Astronomy), 109 pp.

14- C. Caillet (1990) Minéralogie des météorites: 1) Description d'une nouvelle chondrite de type H3 trouvée à Sainte Rose, La Réunion, France. 2) L' inclusion alumino-calcique 477B de la chondrite carbonée Vigarano, étude de quelques « Fremdlinge ». Université Pierre et Marie Curie, Paris IV, pp.

15- M.L. Frezzotti (1990) Genesi ed evoluzione dellke fasi fluide in plutoniti orogeniche: inclusioni fluidi e vetrose nei granite ercinice della Sardegna. Università degli Studi di Siena, 214 pp.

16- H.E.F. Amundsen (1991) Igneous processes and lithosphere evolution: evidence from upper mantle and lower crustal xenoliths from northwestern Spitzbergen and the Canary Islands. Universitet i Oslo, pp.

17- R.J. Bakker (1992) On modifications of fluid inclusions in quartz. Geologica Ultraiectina (Rijks Universiteit Utrecht), 934, 189 pp.

18- J.A. Van Duin (1992) The Turku granulite area, SW Finland: a fluid-absent Svecofennian granulite occurrence. Vrije Universiteit Amsterdam, 234 pp.

19- H.A. Jelsma (1993) Granites and greenstones in northern Zimbabwe : tectono-thermal evolution and source regions. Vrije Universiteit Amsterdam, 268 p. (P : JLR Touret, co-P: L. Westra)

20- Christine Jawecki (1994) Petrologische und Flussigkeitseinschluss-Untersuchungen and Gesteinen des Niederosterreischischen Moldanubikums, Doktorgrad an der Formal- und Naturwissenschaflichen Fakultat der Universitat Wien, 175 p.

21- J.M. Huizenga (1995) Fluid evolution in shear zones from the late Archean Harare-Shamva-Bindura greenstone belt (NE Zimbabwe), VUA, 146 p. (P : JLR Touret, SAPL Cloetingh)

22- M. Rohrman (1995) Thermal evolution of the Fennoscandian region from fission track thermochronology : an integrated approach. Vrije Universiteit Amsterdam, 168 p. (P: SAPL Cloetingh, JLR Touret, co-P : P. Andriessen)

23- P. Zambezi (1995) Geochemistry of the Nkomba-Hill carbonatite complex of Isoka district, Northern Zambia, with special emphasis on economic minerals. Vrije Universiteit Amsterdam, 121 p. (P : JLR Touret, co-P : M. Hale)

24- E. Zwart (1995) Fluid inclusions in carbonate rocks and calcite cements. Vrije Universiteit Amsterdam, 156 p. (P : W. Schlager, co-P :JLR Touret)

.25- A.A. H. A. A. Al-Boghdadi (1995) The basement rocks of Wadi Safaga area, Central eastern Desert, Egypt. PhD thesis, Menoufia University, Shebin el Kom (Egypt), 390p. (Supervisors : MA Takla (Cairo University), JLR Touret, MA Khalifa (Menoufia University), IM Khalaf (Menoufia University)).

26- H. Kramers (1996) Quantitative microdistribution of volatile trace elements in pristine meteorites. Vrije Universiteit Amstyerdam (Fac. Physics & Astronomy), 177p. (P : MN Harakeh, JLR Touret, co-P : JW Hovenier, R. Vis)

27- M. Heeremans (1997) Silicic magmatism and continental lithosphere thinning, VUA, 197p. (P : SAPL Cloetingh, Co-P : JLR Touret, H. Stel )

28- M. Moree, 1998, The behaviour of retrograde fluids in high-pressure settings: Implications for the petrology and geochemistry of subduction-related metabasic rocks from Catalina Island (California, USA) and Syros (Greece), VUA, 162p. (P : JLR Touret)

29- B. Dam , Geologica Ultraiectina (Rijksuniversiteit Utrecht) (P : B. De Jong, JLR Touret)

30- H. Asadi Haroni (2000) The Zarshuran gold deposit model applied in a mineral exploration GIS in Iran. TU Delft, 191 p.

31- M.C. van Soest (2000) Sediment subduction and crustal contamination in the Lesser Antilles Arc: An overview study utilising trace element and helium, carbon, oxygen and radiogenic isotope data. Vrije Universiteit Amsterdam, 287 pp. (promotor: JLR Touret, co-promotors: D.R. Hilton, T. Dunai)

32- M. Griselin (2001) Geochemical and isotopic study of the Xigaze and Luobusa ophiolite massifs (Yarlung Zangbo Suture Zone, Southern Tibet). Vrije Universiteit Amsterdam, 212 pp.

33- B. Fu (2002) Fluid regime during high- and ultrahigh-pressure metamorphism in the Dabie-Sulu terranes, Eastern China. Vrije Universiteit Amsterdam, 144 pp.

34- E. Campos (2002) Metal origin and fluid evolution in the Zaldivar porphyry copper deposit, Chile. An orthomagmatic model. Vrije Universiteit Amsterdam, 166 pp.

35- J.C. (Hanko) Zwaan (2005) Sandawana emerald deposits, Zimbabwe (published Scripta Geologica 131 (2006)- cf Gems & Gemmology 33-2, p. 80-100)

Mis sur le web par R. Mahl